Discover Hua Hin!
Here is one of the tours we can propose to you around Hua Hin.
When you will arrive in Bangkok we will pick you up directly from the airport and drive straight to Hua Hin.
Then we will show you the following places:
– Maeklong Train market: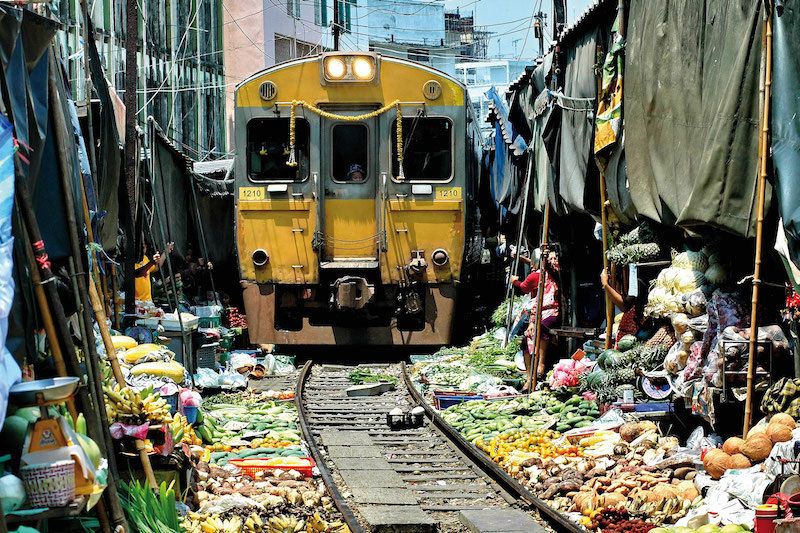 The Maeklong Railway Market is a small market on the railway tracks next to Maeklong Railway Station. When there are no trains around, you can easily forget this is actually an operating railway line. When the train sounds its horn, it turns straight back into a railway line.
– Damnoen Saduak floating market: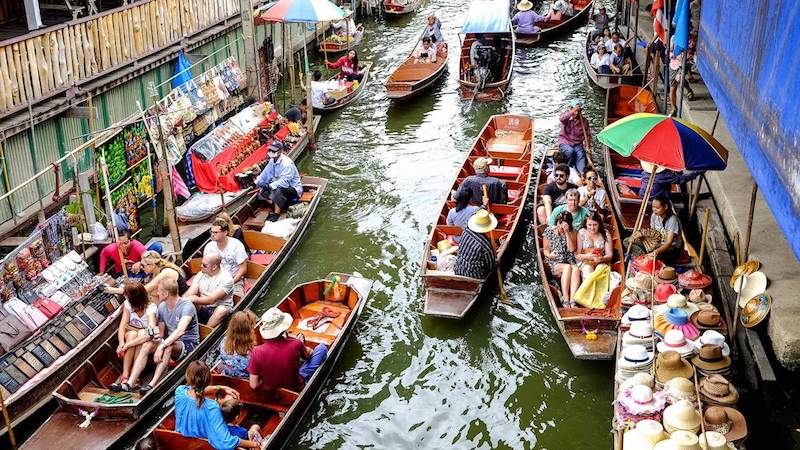 Damnoen Saduak is the most popular floating market in Thailand, great for photo opportunities, food, and for giving you an insight into a bygone way of life. An early morning start is worth it to avoid the heat and catch Damnoen Saduak at its liveliest. Most visitors who come to Thailand want to visit a floating market and many of them will end up here. Don't let that put you off though, it's an enjoyable morning out of the city and if you avoid the tourist shops you can get a real sense of the place.
The boat tour takes about 1,5 hours.
– Khao Luang Cave: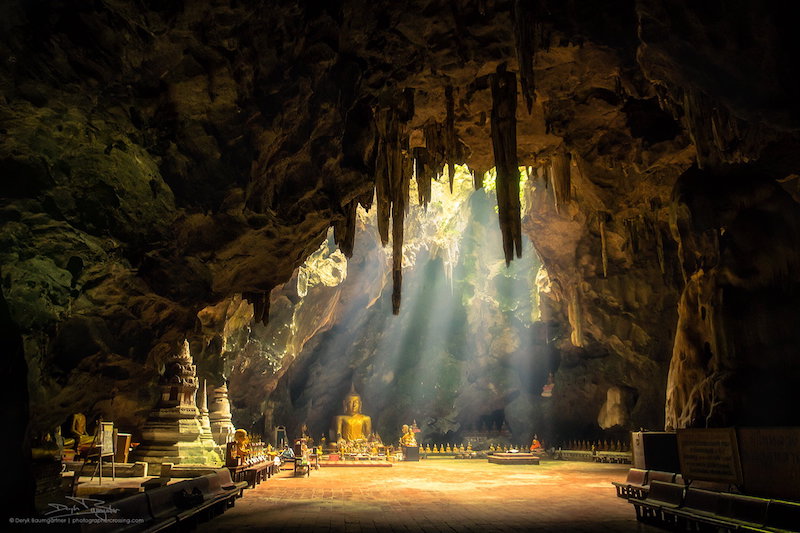 Khao Luang Cave is the most important and most visited cave in Phetchaburi province, because of the large number of Buddha images found inside the cave, including a meters high Buddha image cast by order of King Chulalongkorn (Rama V).
– Santorini Park: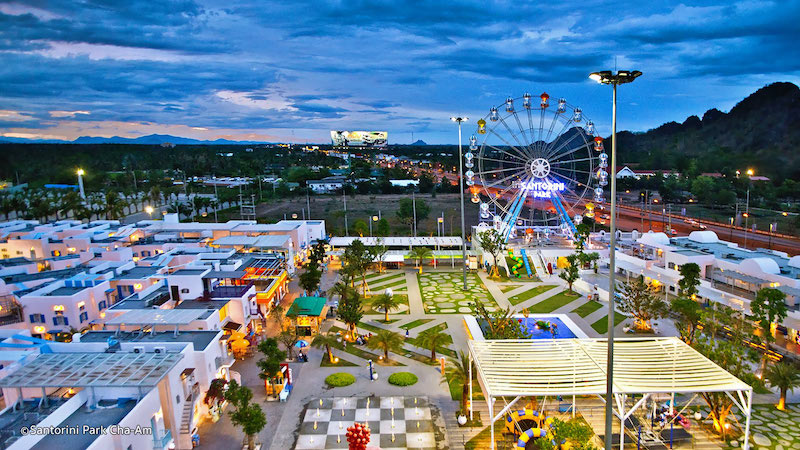 A place for shopping, photo-taking, entertainment and rides, Santorini Park near Hua Hin was built to resemble a Greek island. The white and blue painted buildings and windmill remind of the island Santorini in the Aegean Sea.
– Swiss Sheep Farm:
A scenic place with its meadows, windmill, farmhouses and barns against a backdrop of a forested hill, a Swiss sheep farm is a great place for photo taking. Milk churns, large bales of hay, farm carts, old water pump, Halloween pumpkins and several 1950s and 1960's American trucks add to the farm's picturesque feel.
– The Venezia: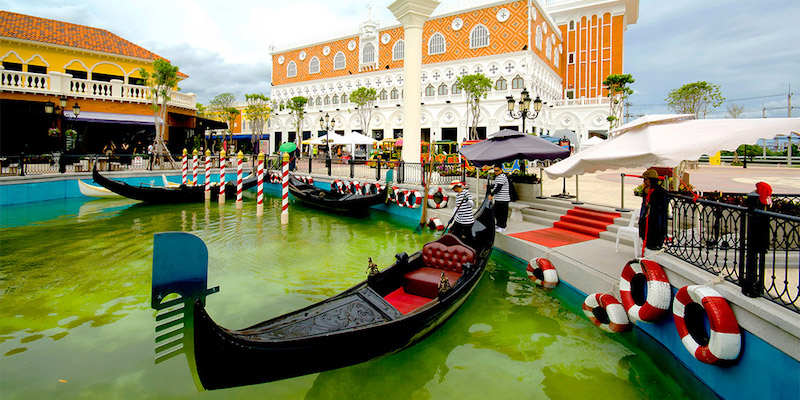 The Venezia is the new shopping mall under the theme shopping village concept like any other popular attractions in Thailand.
– Plearn Wan: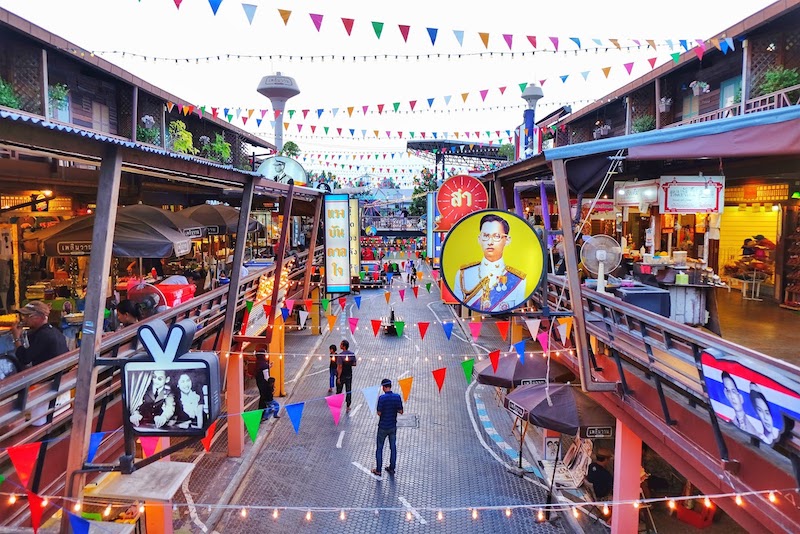 Plearn Wan feels more like a living museum where you can experience a slice of life in 1950s Hua Hin. Plern Wan's two-storey courtyard-style building, an architectural statement in itself, houses a community of period-style shops selling everything from liquor, inexpensive plastic-and-tin toys, snacks as well as a beauty salon, photo studio, outdoor cinema screen and a 20-room guesthouse or 'Piman Plern Wan.
– Hua Hin Beach: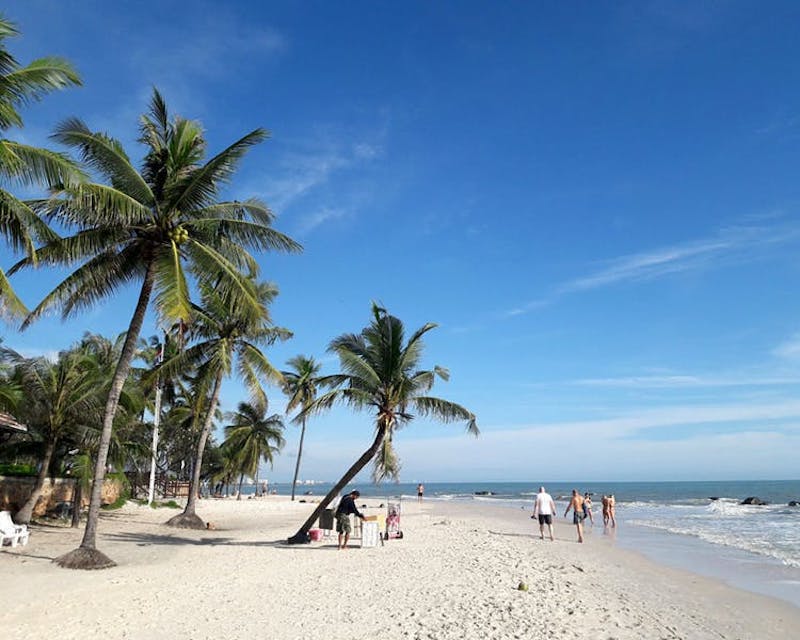 Well-known for its spectacular sunrises, Hua Hin's main beach is a 4km white, sandy strip that fringe the Gulf of Thailand, and stretches from the town centre to Khao Takiap. As a result, it is never over-crowded, and lots of family-friendly activities are on offer – the likes of pony rides, banana boat rides, or rent deckchairs and umbrellas for a few lazy hours of sun-worshipping in between testing the water with your big toe. The town's name – meaning 'stone head' – is derived from the rock formations that can be seen towards the end of the main beach. Other than that it is a sandy beach with a sandy seabed, making it ideal for swimming.
– Railway Station: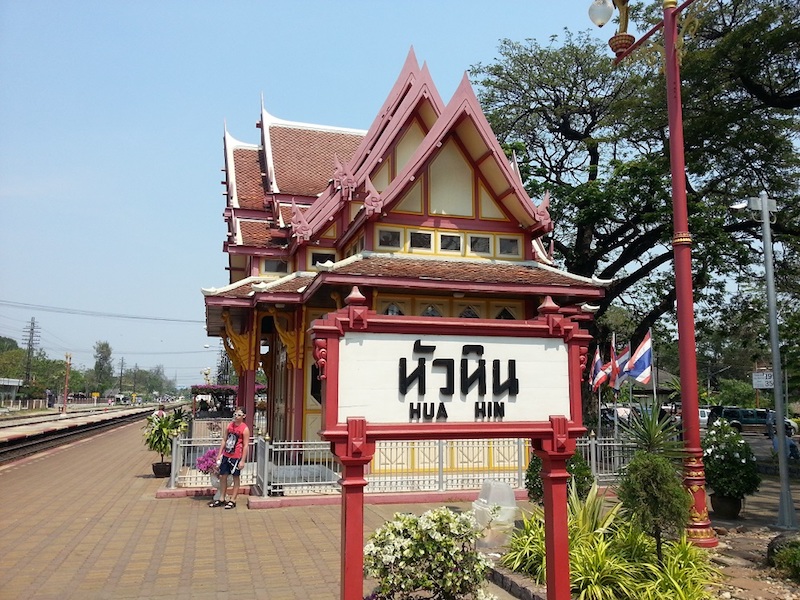 The Hua Hin Railway Station is one of the country's most beautiful train stations marked by its meticulous details in architecture. Built in the reign of King Rama VI, the station features a Royal Waiting Room with Thai architectural style, a room which was relocated from Sanam Chan Palace in Nakhon Pathom province during the reign of King Rama VI.
– Cicada Market: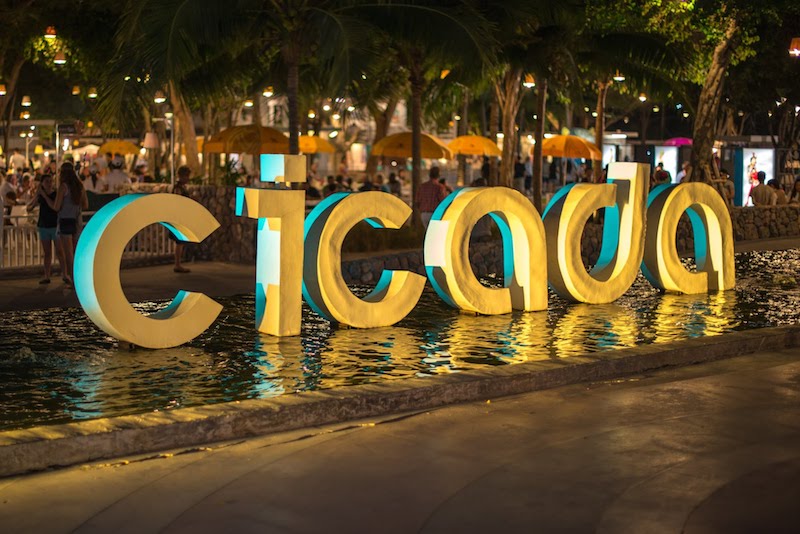 Cicada Market is all about art, handmade crafts and good times. With an open-air market concept, it brings together Hua Hin's artistic talents and those who wear 'freedom of expression' on their sleeves. Besides the crafts market, you'll also find an art gallery, beer garden and live music. Open only on weekend evenings, the market is usually packed with weekenders from Bangkok.
– Night Markets (

Chatsila

& Chat chai):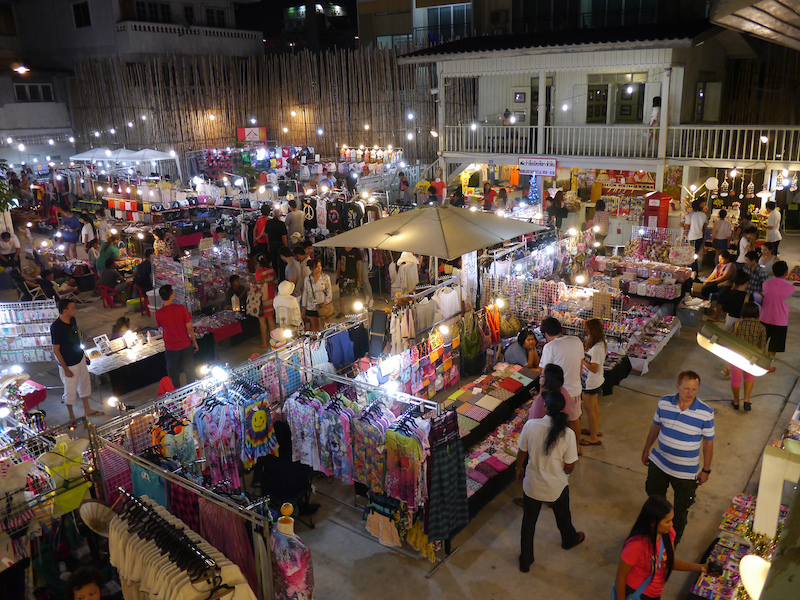 Chatsila Night Market is recent and still in search of its identity. It basically consists of a small place with a few white wooden houses. Their first floor is a not very interesting small museum. The stalls are downstairs on the square. No food there but clothes, handicrafts or useful objects. Between the square and Dechanuchit Road is a less charming walkway with a few shops and cheap restaurants.
By night, the place with its light garland is very pleasant.
Chatchai Market is one of the famous markets known by both Thai and foreign tourists. It is located on Petchkasem Road. This market is an old and renowned market built-in 1926 during Rama VII's reign as his wish on the first visit with Queen Rambai Barni to Klai Kangwon Palace. Prince Purachatra Jayakara, the Prince of Kamphaengphet is the foreman of the construction to dedicate to the King. The market was designed with 7 adjacent semi-circular roofs as a symbol to show that it was built during Rama VII's reign and was all built with reinforced concrete. The market is light and airy and was considered to be the most sanitary market in Thailand at that time. It was renovated many times; however, the featured 7 roofs have always remained there as the symbol. The market currently sells souvenirs as well as fresh and dried food.
BEST HOTEL DEALS IN HUA HIN