Day trips around Bangkok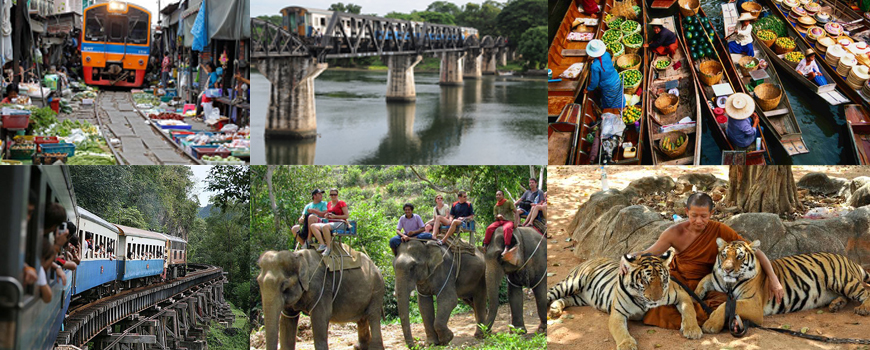 We can propose different day trips around Bangkok. I will pick you up from your hotel and bring you back in the evening. The Kwai River Bridge, the Tiger Temple, the Elephant Village, the Death Railway, or the amazing markets.
We will pick you up from your hotel in the morning and bring you back in the evening.
For 4 persons in my Toyota Innova it will cost 3500 THB and 5500 THB in a Minibus for 9 persons.
This doesn't include the tickets to the different monuments' entrances.
Damnoen Saduak, the Floating Market

:
Damnoen Saduak is the most popular floating market in Thailand located about 1 hour and 20 minutes from Bangkok downtown. The market is the most active in the morning when people come to sell their colourful fruits, vegetables, and food.
The Dangerous Market:
The Maeklong market is maybe the world's most dangerous market. This market is located 130 km west of Bangkok and is about 4 km long.
The exotic fruits, the vegetables, and the coloured species are laying down directly on the railway. The smell of Thai food, the music, the crowd and suddenly the horn of the train which looks like coming from a movie.
The Elephant Village:
Located 15 minutes from the Floating Market, this Elephant Village is the perfect attraction for everybody, including families. You can discover the life of the elephant in their natural domain.
The Bridge over the River Kwai:
This bridge became famous after the movie "The Bridge on the River Kwai" in 1957. It's located in Kanchanaburi, 128 km west of Bangkok, at the Myanmar border.
More information: http://www.bridgeriverkwai.com
Ayutthaya tour

:
Ayutthaya is a former capital of Thailand (1350 – 1767) and offers magnificent ruins of early splendour some of which have been restored and some of which are still undergoing archaeological excavations. Ayutthaya is situated about 71 km north of Bangkok. The drive goes through paddy fields and orchards. The most valuable assets of Thailand must be seen.
BEST HOTEL DEALS IN BANGKOK